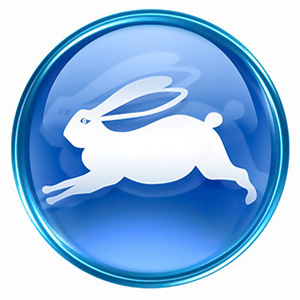 Rabbit
Years of birth: 1927, 1939, 1951, 1963, 1975, 1987, 1999, 2011, 2023
About the sign
The rabbit is ranked fourth in the 12-year cycle of the Chinese zodiac. His years: 1915, 1927, 1939, 1951, 1963, 1975, 1987, 1999, 2011, 2023 and so on. Luck numbers are 3, 4, 9, and colors are purple, blue, pink, red. Good compatibility of this sign - Pig, Goat, Dog, Monkey, bad - Rooster, Snake. The representative of this sign of the Chinese horoscope is distinguished by the following character traits: sensitive, compassionate, gentle, merciful, modest, stubborn, conservative, timid.
Chinese Zodiac - Rabbit
Rabbit's childhood is stable, in adolescence, representatives of these signs devote a lot of time to self-education. Rabbits strive to achieve peace of mind and peace. Not everyone succeeds in being in this state, because in adulthood there are many problems.
Rabbits don't like abrupt changes and dramatic twists and turns. They are not able to fight for survival, because it is difficult for them to leave their comfort zone. The representative of this sign is interested in adventures, if they do not in any way affect his stable living.
In adulthood, it is important for Rabbits to make the right choices regarding work and family. According to these two directions, it is better to decide before the age of 30.
Rabbit Character Benefits
Rabbits are able to intuitively feel the traps of life, so they skillfully bypass any traps. These people are born diplomats. Rabbits are able to quite gently convey their own point of view, convince others and set the right motivation. Representatives of this sign always try to be polite and try to understand the interlocutor.
Rabbit's actions are rarely rude or aggressive. Thanks to his eloquence, this person influences specific individuals and large social groups in general.
The rabbit always tries to be refined and elegant, because nature has endowed him with impeccable taste. It is not difficult for him to establish useful contacts, to acquire connections in order to live comfortably.
Rabbit in the Chinese zodiac
Character flaws Colic
A flaw in the character of the Rabbit is the frequent distraction of the little things. This feature prevents a person from focusing on important things. In the work, the representative of this zodiac sign often finds fault with the details, and all this negatively affects the overall result. Often the Rabbit takes a very long time to make important decisions or makes a strategic plan. If there is someone faster and more agile in the team, then he will quickly get ahead of him.
In front of rude and impudent people, the Rabbit is powerless. His innate intelligence and sophistication do not allow him to act in similar ways. The available weapon for him is cunning, but often this is not enough to win. In a state of panic, the Rabbit makes a lot of mistakes.
Rabbit man
Men who were born in the Year of the Rabbit are always reliable and stable in relationships, but it can be difficult for them to take the first step. The representative of this sign is vulnerable in a relationship, always afraid of being rejected. The young man is attached to the family, he likes to feel constancy in everything. Comfort in everyday life and the manifestation of care for others are important for him. Usually Rabbits decide to marry early, they are not prone to betrayal.
Next to this man there should be a woman for whom family values ​​are in the first place. A young man in marriage will be engaged in providing for the wife of children. This sign is characterized by the so-called "quiet" jealousy. The rabbit does not want his other half to spend the evening with friends in a restaurant, but he will not arrange scandals about this. A tense atmosphere can be present in the house against the background of the husband's dissatisfaction.
The rabbit tries to trust only trusted people, he is sensitive to the grief of others, willingly comes to the aid of his friends.
A man does not accept any criticism in his address, even if it comes from members of his family.
Chinese Zodiac - Rabbit
Rabbit woman
With a woman who was born in the year of the Rabbit, it is always pleasant to be together.
In mental matters, the lady is used to keeping a certain distance. The rabbit never lets strangers close to him.
A girl usually has few real friends, but there are quite a lot of friends. People at the level of instincts are drawn to her, because she breathes light and warmth. The Rabbit woman is rather uncomfortable to be in a noisy company; she prefers to spend time in a narrow circle of acquaintances.
Communicating with representatives of the opposite sex, a woman manifests herself as a real lady. Men see her as a refined aristocrat who does not rise above others, but behaves good-naturedly.
In relationships with guys, girls rarely take the initiative. She can be gentle, feminine, sweet, and caring. It is these ladies that most men want to see next to them. She will perfectly cope with the role of wife, mistress and mother.
Compatibility Rabbits
| | | | | | | | |
| --- | --- | --- | --- | --- | --- | --- | --- |
| | | Business | Love | Marriage | Sex | Friendship | Compatibility |
| | Pig | | | | | | 92% |
| | Dog | | | | | | 92% |
| | Rooster | | | | | | 40% |
| | Monkey | | | | | | 80% |
| | Goat | | | | | | 96% |
| | Snake | | | | | | 96% |
| | Tiger | | | | | | 72% |
| | Dragon | | | | | | 88% |
| | Rat | | | | | | 68% |
| | Rabbit | | | | | | 84% |
| | Horse | | | | | | 76% |
| | Bull | | | | | | 72% |
Personal horoscope
Sometimes you want to know what the coming day is preparing. Understand who is waiting for our support, and in what area we need help. Fortunately, our readers have such an opportunity. Julie Poe, a numerologist with extensive knowledge, prepares a forecast and generously shares his observations and warnings.

Julie Poe
---
Leading numerologist, best-selling author