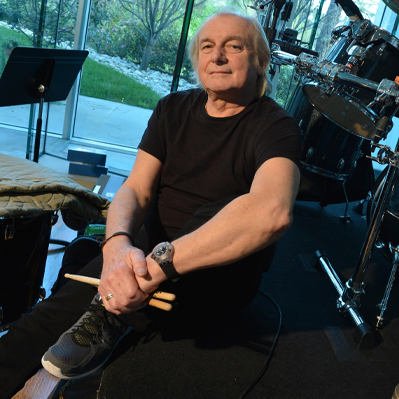 WHITE
Alan
English drummer and songwriter
Date of Birth: 14 June 1949
Date death: 26 May 2022
Age at the time of death: 72 years old
Profession: Drummer
Content
Biography
Alan White was an English drummer and songwriter, best known for his tenure in the progressive rock band Yes. He joined Yes in 1972 as a replacement for original drummer Bill Bruford. Following the death of bassist Chris Squire in 2015, White became the longest-remaining member in the band.
In 1969, White had joined John Lennon and Yoko Ono's Plastic Ono Band, after Lennon invited him to play at the Toronto Rock and Roll Revival festival, followed by a show at the Lyceum Ballroom. He notably played drums on the singles "Instant Karma!" and "Imagine", as well as on eight of the ten tracks on Lennon's 1971 Imagine album.
In addition to his work with Yes and John Lennon, White performed on over 50 albums by other musicians, notably George Harrison, Ginger Baker's Air Force, Terry Reid, Joe Cocker and The Ventures.
White was inducted into the Rock and Roll Hall of Fame, as a member of Yes, in 2017.
Early life
White was born in the village of Pelton, County Durham, England. His father had different jobs, working as a clerk, shop keeper, and a lorry and bus driver who also played the piano in local pubs. His grandfather played the piano and his uncle was a drummer in local dance bands. He attended a technical school and, at age seven, moved to the nearby town of Ferryhill, where he spent the rest of his childhood. At age six, White began to take piano lessons, playing the instrument "very percussively", which his uncle noticed and informed his parents who bought him an Ajax drum kit for Christmas when he was twelve. White named his uncle as a big influence. White felt he was pushed to learn and play like his drum instructor and wished "to be more individual" on the instrument, so he began to develop his own style. His parents went on to buy him a metallic silver Ludwig kit.
Career
Early bands and session work
Several months into formal drumming lessons, White joined his first band, a local group named the Downbeats, at thirteen. They performed songs by the Beatles, the Searchers, and Gerry and the Pacemakers. The group became well known in the Newcastle area, playing working men's clubs and dance halls as much as seven nights a week until late. White's school teachers only found out about his activities when the band were featured in the local newspaper. During his time in the band, White also had a paper round. In 1964, the Downbeats changed their name to the Blue Chips and travelled to London to enter an amateur band contest held at the London Palladium by Melody Maker. They won the contest and were awarded money, new equipment, and recording contract and recorded several singles which did not chart. They returned home, and disbanded soon after.
White reduced his music commitments in order to pass his school exams, after which he became interested in studying technical drawing at college with the plan to become an architect. At seventeen, he pursued music and toured the cabaret circuit as part of Billy Fury's band the Gamblers, which included several gigs in Germany. White went on to play in Happy Magazine, later known as Griffin, with Alan Marshall and Kenny Craddock, and put out several records with Alan Price as their producer. White continued to tour and play with Price in his group, the Alan Price Set, and took up several jobs as a session musician.
In 1969, White received a call from John Lennon who invited him to join his Plastic Ono Band for their live performance at the Toronto Rock and Roll Revival festival. Lennon had attended a Griffin performance in a club and wanted White to join the band of Yoko Ono, Eric Clapton, and Klaus Voormann. White disbelieved Lennon's call and offer and thought he was a prankster, but accepted the invitation for the show which took place on 13 September 1969 at Varsity Stadium in front of 20,000 people. The set was later released as a live album, Live Peace in Toronto 1969. The gig landed White further session jobs, including drum work on Imagine and "Instant Karma!" for Lennon and All Things Must Pass by George Harrison, as well as the openings track, the epic Govinda, for The Radha Krsna Temple (produced by George Harrison). Around the same time, White worked with Denny Laine in his band Balls for several months, which was followed by a ten-week stint with the fifteen-piece band, Ginger Baker's Air Force, and a period with Steve Winwood and Terry Reid.
YES band
To save time commuting to London from the house he shared with his Griffin bandmates in Sussex, White shared a flat with engineer and producer Eddy Offord who worked with Yes on their albums and tours. In early 1972, White attended their session at Advision Studios to record a promotional film for their cover of "America" by Simon & Garfunkel. Soon after, he turned up to one of their rehearsals of "Siberian Khatru", a song for their fifth album, Close to the Edge. Their drummer Bill Bruford had to leave the session early, leaving White to sit in with the band for the rest of it. White then joined Chris Stainton's All Stars for a European tour in support of Joe Cocker, which included a show at the Rainbow Theatre in London that Yes bassist Chris Squire attended.
On 19 July 1972, after Yes had finished recording Close to the Edge, Bruford left to join King Crimson. With their supporting tour less than a week away, the band were desperate for a replacement. White then got a call from Tony Dimitriades, who handled Offord's affairs and later became Yes's manager, informing White that the band wanted him to join. Anderson and Squire then met White at Offord's flat, and he joined. He spent the following three days learning the band's repertoire before the Close to the Edge Tour began in Dallas, Texas on 30 July 1972. In the same week, White was offered to join Jethro Tull and America. White's performance was documented on their first live album Yessongs, in 1973; this was followed by his first studio album with them later that year, Tales from Topographic Oceans.
White played drums and percussion on over 40 studio and live Yes albums, additionally adding piano parts and collaborating on the songwriting, notably "The Remembering (High the Memory)", all the Relayer album ("The Gates of Delirium", "Sound Chaser", and "To Be Over"), "Turn of the Century", "Future Times", "Release, Release", all of the Drama album ("Machine Messiah", "White Car", "Does It Really Happen?", "Into the Lens", "Run Through the Light", and "Tempus Fugit"), "Changes", "Our Song", "Hearts", "Big Generator", "I'm Running", all the Open Your Eyes album ("New State of Mind", "Open Your Eyes", "Universal Garden", "No Way We Can Lose", "Fortune Seller", "Man in the Moon", "Wonderlove", "From the Balcony", "Love Shine", "Somehow, Someday", "The Solution", and "The Source"), all of The Ladder album ("Homeworld (The Ladder)", "It Will Be a Good Day (The River)", "Lightning Strikes", "Can I?", "Face to Face", "If Only You Knew", "To Be Alive (Hep Yadda)", "Finally", "The Messenger", "New Language", and "Nine Voices (Longwalker)"), all of the Magnification album ("Magnification", "Spirit of Survival", "Don't Go", "Give Love Each Day", "Can You Imagine", "We Agree", "Soft as a Dove", "Dreamtime", "In the Presence Of", and "Time Is Time"), "The Gift of Love", "The Game", and "To Ascend".
White played over 3,070 live shows during his tenure with Yes.
Due to various health problems, White missed a 28-date tour with Yes in 2016, with Jay Schellen substituting for him, after which White returned to the live touring band, accompanied by Schellen in 2017, Dylan Howe (son of guitarist Steve Howe) in mid 2017, and Schellen again from early 2018, contributing to some double drumming not seen onstage since Yes's Union tours in 1991-2.
In 2018, White toured with Yes celebrating their 50th anniversary, with founding member Tony Kaye a guest on all USA and Japan shows.
In 2019, during The Royal Affair tour, Yes acknowledged White's career pre-Yes by performing "Imagine" as the first encore, with the Moody Blues' John Lodge sharing lead vocals towards the end of the tour. The video wall backdrop to "Imagine" featured unseen footage of the Imagine album sessions featuring Lennon, Ono, Harrison, Voormann, White and other contributors to the album and sessions.
In 2020, the COVID pandemic saw the postponement of US dates around Cruise to the Edge, plus a 35-date European tour which was postponed to 2021 and then to 2022 and later to 2023; he ultimately died before he could participate in the rescheduled performances. He played on Yes's most recent studio album The Quest (2021).
Mentions in the news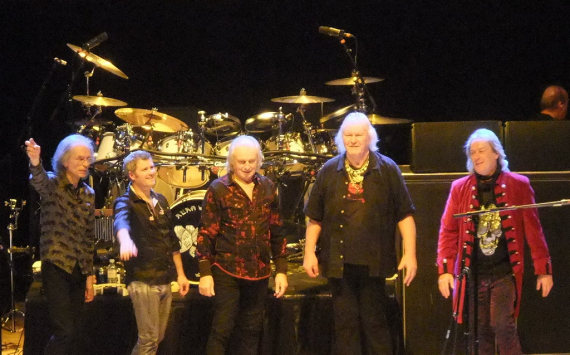 Born in one day
Days left until next birthday: 7 Days.
GlobalEng.biz pays special attention to the activities of famous people: politicians, officials, businessmen, bankers, cultural and sports figures. Their opinion largely determines the development of the political, social and economic life of England and the United Kingdom. The section is constantly edited by our journalists for the relevance of the information. Here you can find information about the CEOs and presidents of top companies in England, officials and public figures who play a key role in the development of the region.
The goal of the project is to create a comfortable information space for all market participants, as well as to introduce the readership to business people in England.
We have created an impressive database of people in England, which contains information about the career path, education and other important information about a person.
Thanks to the automatic calculation of the number of mentions of a person in the news sections "English news" and "English press releases", a rating of the popularity and influence of persons is formed on the portal. The team GlobalEng.biz monitors changes in the rating and encourages project participants for their success. In general, the rating of participants is based on an in-depth analysis of the activity of PR services of famous people, and also reflects the qualitative state of the information field formed by the media and press services around the organization.
"Business people of England" is a project about people who, with their ideas, words and actions, have a great influence on the development and prosperity of England.
Alena Potapova
---
Development Director