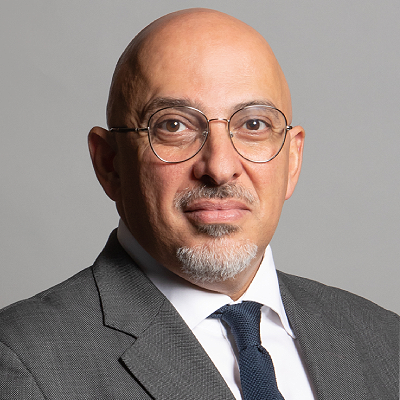 Content
Biography
Nadhim Zahawi (Arabic: ناظم الزهاوي, romanized: Nāẓim az-Zahāwī; born 2 June 1967) is an Iraqi-born British politician who has served as Secretary of State for Education since September 2021. A member of the Conservative Party, he has been Member of Parliament (MP) for Stratford-on-Avon since 2010 and previously served as Parliamentary Under-Secretary of State for COVID-19 Vaccine Deployment from 2020 to 2021.
Born to a Kurdish family in Baghdad, Zahawi was co-founder of international Internet-based market research firm YouGov of which he was chief executive until February 2010 and was, until January 2018, chief strategy officer for Gulf Keystone Petroleum. After the retirement of previous Conservative MP John Maples, he was elected for Stratford-upon-Avon at the 2010 general election.
Zahawi joined Theresa May's government as Parliamentary Under-Secretary of State for Children and Families in the 2018 cabinet reshuffle. Following Boris Johnson's appointment as Prime Minister, he was appointed Parliamentary Under-Secretary of State for Business and Industry, and in 2020 he was given additional responsibility for the COVID-19 vaccination programme as Parliamentary Under-Secretary of State for COVID-19 Vaccine Deployment. In the 2021 cabinet reshuffle he was promoted to Johnson's cabinet as Secretary of State for Education.
Early life and education
Zahawi was born on 2 June 1967 in Baghdad to Iraqi Kurdish parents.[3] At the age of nine, he and his family fled to the UK from Iraq in 1976, during Saddam Hussein's early years in power.[4]
Zahawi was originally educated at Holland Park School,[1][5] before moving to Ibstock Place School and then at King's College School, an independent school in Wimbledon, London, followed by University College London, where he studied chemical engineering, receiving a Bachelor of Science degree.[1]
Career
YouGov
Following a career as European Marketing Director for Smith & Brooks Ltd, Zahawi co-founded YouGov with Stephan Shakespeare, a former spokesperson for Jeffrey Archer. Zahawi was YouGov's CEO from 2005 to 2010.[3]
Early political career
In 1991, Zahawi and fellow British-Kurd Broosk Saib[6][7] were aides to Jeffrey Archer during Archer's controversial "Simple Truth" campaign to help Kurdish victims of the Gulf War. Zahawi and Saib were nicknamed "Lemon kurd" and "Bean kurd" by Archer.[8] In 1994 Archer helped campaign for Zahawi for a seat on Wandsworth council. Zahawi also ran Archer's unsuccessful campaign for Mayor of London in 1998.[9]
Zahawi was elected as a Conservative councillor in Putney[10] in the London Borough of Wandsworth, serving three terms from 1994 to 2006, and stood as a parliamentary candidate at Erith and Thamesmead in 1997, coming second to Labour.[11]
Member of Parliament
In 2010 Zahawi was selected by the local Conservative association for Stratford-on-Avon as a prospective parliamentary candidate in the 2010 general election and he was elected.[12] He was subsequently re-elected in 2015, 2017 and 2019.[12]
In October 2013, he became a member of the Number 10 Policy Unit.[13] Later in October, Zahawi and fellow member of the Business, Innovation and Skills Committee interviewed Lazard, the Government's independent adviser on the sale of Royal Mail. Shares quickly rose to £5 following flotation at £3.30 and the Financial Times claimed that two investment banks had warned that it was underpriced.[14]
Zahawi is vice-chair of the All Party Parliamentary Group (APPG) on Kurdistan Region in Iraq,[15] which receives secretarial support from Gulf Keystone Petroleum International, an oil company of which Zahawi was Chief Strategy Officer.[16] Concerns have been raised[by whom?] about how MPs' independence might be compromised by such links between APPGs and private companies, and specifically about how Zahawi's connections with the oil industry affect his role as MP.[17][18][19] Zahawi has been co-chair or vice-chair of this APPG since it was established in 2008/9, alongside other MPs including Meg Munn and Jason McCartney.[citation needed]
During the time he was on the Foreign Affairs Select Committee he was also chairman of the secretive trans-Atlantic group Le Cercle but did not declare his membership.[20] In 2019 a member of his staff was listed as an administrator of Le Cercle in the Parliamentary Register of interests.[21]
In January 2016, the Labour Party unsuccessfully proposed an amendment in Parliament that would have required private landlords to make their homes "fit for human habitation". According to Parliament's register of interests, Zahawi was one of 72 Conservative MPs who voted against the amendment who derived an income from renting out property. The Conservative Government responded to the amendment that they believed homes should be fit for human habitation but did not want to pass the new law that would explicitly require it.[22]
He backed Britain's withdrawal from the European Union, arguing that the European Union will never be willing to change its rules and that the United Kingdom should take back control over a variety of issues.[23][24]
Following the 2018 cabinet reshuffle, Zahawi was appointed Parliamentary Under-Secretary of State at the Department for Education. On 26 July 2019 he became Parliamentary Under-Secretary of State for Industry.
In October 2020, Zahawi was accused by Labour MP Tulip Siddiq of misleadingly suggesting that research from a holiday food and activities club pilot scheme had shown parents "actually prefer to pay a modest amount, £1 or £2", instead of receiving free school meals, in a debate over extending free school meals during school holidays.[25]
He became the first ever Parliamentary Under-Secretary of State for COVID-19 Vaccine Deployment in November 2020.[26] In December 2020, Zahawi stated that over 137,000 people in the UK had received a coronavirus vaccine in the first week of the UK's vaccination programme, with Zahawi describing it as a "really good start".[27][28] A 90-year-old woman from the UK became the first person in the world to be given the Pfizer COVID-19 vaccine on 8 December 2020.[29] On 14 February 2021, Zahawi said that at least 15 million people in the UK had had their first coronavirus vaccine.[30]
In February 2021, Zahawi said there were no plans to introduce vaccine passports to travel abroad, describing them as "discriminatory". He said people could talk to their doctor if they needed written evidence to travel.[31][32] In July 2021, the government announced plans to introduce domestic COVID-19 vaccine passports from September as a condition of entry to nightclubs and some other venues with large crowds.[33]
On 15 September 2021 Zahawi became Secretary of State for Education in a cabinet reshuffle, replacing Gavin Williamson.[34]
During the COP26 conference in 2021, Zahawi announced a youth award scheme to tackle climate change, similar to The Duke of Edinburgh's Awards. Pupils will be encouraged to boost the biodiversity of their schools by taking initiatives such as erecting bird feeders. Young people will be given a new Climate Leader's Award for any positive work on protecting the environment, with a nationwide ceremony held each year.[35][36]
Expenses
Zahawi claimed for 2012/13 a total of £170,234 in expenses, ranking him the 130th highest out of 650 MPs.[37] He explained in his local newspaper Stratford Herald that the "vast bulk" of his expenses was on staffing costs.[38]
In November 2013 Zahawi "apologised unreservedly" after The Sunday Mirror reported that he had claimed £5,822 expenses for electricity for his riding school stables and a yard manager's mobile home.[39] Zahawi said the mistake arose because he received a single bill covering both a meter in the stables and one in his house and that he would repay the entire claim, even though the actual overcharge was £4,000.[40] An article in The Independent also drew attention to the large number of legitimate items on Zahawi's expenses.[41]
Registered interests
Zahawi's various roles resulted in him reportedly being the second highest earning MP in the UK as of 2017.[42]
The Guardian reported in early 2017 that Zahawi had spent £25m buying property around London, for both personal and commercial use.[43] Zahawi said in response that "My first priority, before anything else, is my constituency work and I would never, or have never, let anything get in the way of this."[43]
Constituency home
In November 2013 it was reported by the Birmingham Mail newspaper that in May 2011 (one year after he became an MP) Nadhim Zahawi used as a mortgage lender Berkford Investments Limited, based in the low-tax British overseas territory of Gibraltar, to finance the purchase of his constituency home 'Oakland' riding stables estate (worth at the time £875,000) in Upper Tysoe, near Stratford-upon-Avon, in Warwickshire.[44]
Berkford Investments Limited is managed by T&T Management Services Limited, who services include wealth management services. Zahawi responded to the news story by saying: "I did pay stamp duty on my property in Tysoe and have always paid stamp duty on my property purchases. I fully support the 2012 budget and all budgets of this government. I purchased my property in Tysoe with a mortgage from a Gibraltar company. This fact and the details involved are fully declared on the Land Registry and to suggest it is in any way hidden would be factually incorrect. Equally, to suggest that in any way I am using offshore to reduce my tax burden is entirely incorrect."
Honours and awards
Zhahawi was sworn in as a member of Her Majesty's Most Honourable Privy Council on 20 September 2021 at Balmoral Castle.[45] This gave him the Honorific Prefix "The Right Honourable" for Life.
Personal life
A keen rider and show jumper,[1] Zahawi and his wife Lana (married 2004)[1] own and run a riding school.[46] He is a member of the private members club Soho House.[1]
US travel ban
Following former US President Trump's executive order that banned travellers from a number of Middle Eastern states, Zahawi reported that, despite being a British citizen, he was unable to enter the United States, as he was born in Baghdad, Iraq.[47] The ban also affected his wife.[47] According to a media report, this prevented Zahawi from visiting his children attending college in the US.[48]
Zahawi spoke out against the policy and urged that the UK should not turn a blind eye to it.[48] He also argued that the travel ban, and the Prime Minister, Theresa May's failure to condemn it, only fuelled support for Islamic State in Iraq and other countries.[48]
Attendance at a Presidents Club charity dinner
In late January 2018, it was reported in the media that Zahawi was one of the attendees at a men-only dinner event organised by the Presidents Club at the Dorchester Hotel in London.[49] Media reports alleged that female hostesses were subjected to sexual harassment and incidents of groping and inappropriate touch.[50] Following the revelations of his attendance at the event, Zahawi posted a tweet condemning such behaviour and stated that he felt uncomfortable at what he saw happening. He has also stated that he will never attend such a men-only event again.[51] In response, opposition politicians, including the Shadow Secretary of State for Education, Angela Rayner, called for Zahawi to step down from his position as Parliamentary Under-Secretary in the Department of Education as he did not report his concerns about unlawful behaviour at the event to the police and because he had attended the event before on several occasions.
Mentions in the news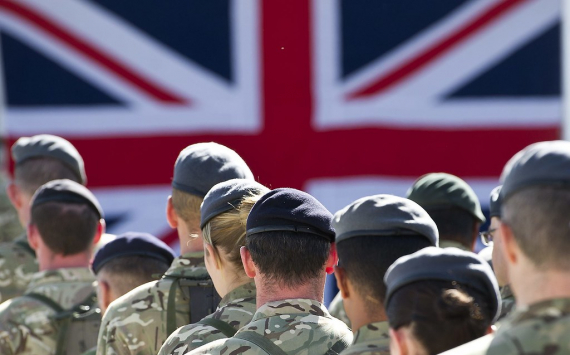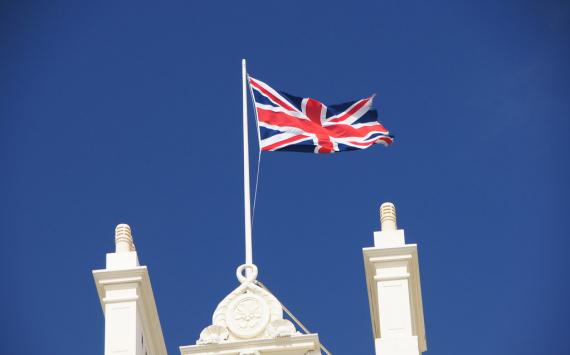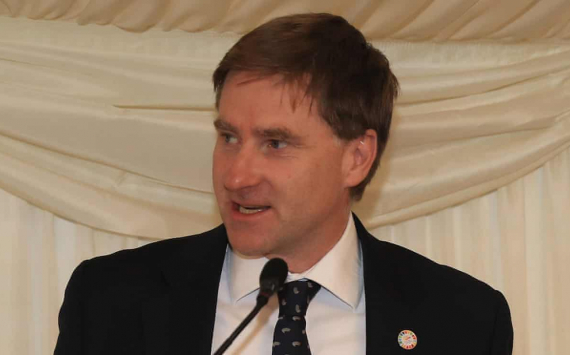 Born in one day
Days left until next birthday: 65 Days.
GlobalEng.biz pays special attention to the activities of famous people: politicians, officials, businessmen, bankers, cultural and sports figures. Their opinion largely determines the development of the political, social and economic life of England and the United Kingdom. The section is constantly edited by our journalists for the relevance of the information. Here you can find information about the CEOs and presidents of top companies in England, officials and public figures who play a key role in the development of the region.
The goal of the project is to create a comfortable information space for all market participants, as well as to introduce the readership to business people in England.
We have created an impressive database of people in England, which contains information about the career path, education and other important information about a person.
Thanks to the automatic calculation of the number of mentions of a person in the news sections "English news" and "English press releases", a rating of the popularity and influence of persons is formed on the portal. The team GlobalEng.biz monitors changes in the rating and encourages project participants for their success. In general, the rating of participants is based on an in-depth analysis of the activity of PR services of famous people, and also reflects the qualitative state of the information field formed by the media and press services around the organization.
"Business people of England" is a project about people who, with their ideas, words and actions, have a great influence on the development and prosperity of England.
Alena Potapova
---
Development Director