28 December 2022
1633
2 min.
4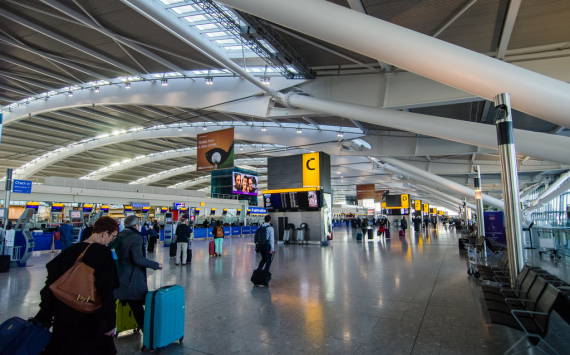 Three-day strike
More than 1,000 border control staff working at major UK airports began a three-day strike on Wednesday, which will cause serious inconvenience to passengers in the run-up to New Year. The strike has affected Heathrow and Gatwick, as well as Birmingham, Manchester, Cardiff and Glasgow airports, according to Sky News television.
Staff at these airports, who are responsible for checking passengers' passports, had previously gone on strike from December 19 to 24. The waiting time in queues to check passports during this period increased significantly and could exceed two hours.
The Public and Commercial Services Union, shortly PCS, has sharply criticised the government's pay hike of 2 per cent for civil servants, including border guards, this year and is demanding 10 per cent.
The second round of strikes by officials, starting on Wednesday, will also last four days and the PCS said the full extent of the disruption was difficult to predict, partly because military personnel were not authorised to detain suspected criminals at passport controls.
Also, the Home Office said its robust contingency plans for the UK border had been drawn up to prioritise security and safety.
Airports said they expected minimal disruption during the latest strike, adding that they had been operating normally during strikes that ended on Boxing Day.
Heathrow Airport said there had been "no impact on the operation as a result of the first round of border force strikes".
The strike affects not only airline passengers but also those arriving in the UK from continental Europe by Eurostar trains.
A new round of strikes was also launched on Wednesday by employees of a number of rail companies, including Great Western Railway. Like the border workers, they intend to strike for pay rises until December 31 and resume protesting in January.
It is also worth noting that a wave of strikes gripped the UK in December amid a sharp rise in inflation, to a near 40-year high of 10.7%, and falling real incomes. In addition to border and rail workers, nurses, ambulance staff and postal workers are also taking part.
ENGLAND NEWS
News GlobalEng.biz -this is the latest and most up-to-date information about the resonant events that have occurred in the region. The task of the resource's news feed is to convey to readers information about important events in business, politics, economics, healthcare, culture and other spheres of life in England with maximum accuracy and objectivity.
News GlobalEng.biz - this is coverage of the economic processes taking place in England, the latest news of public life, incidents and an overview of political events. English news is information about the activities of small and medium-sized businesses, the work of housing and communal services, the implementation of significant projects. The site's journalists describe not only the life of the region, but also talk about the current state of the English economy. Everything you need to know about innovations in the field of industry and agriculture, economy and government is collected in the "News" section on GlobalEng.biz.
News of England promptly informs the reader, shows the real picture and opens up topical topics. Communication with government structures and business gives us the opportunity to provide our readers with reliable, information-rich material.
The main page of the portal contains the key news of England!
Alena Potapova
---
Development Director