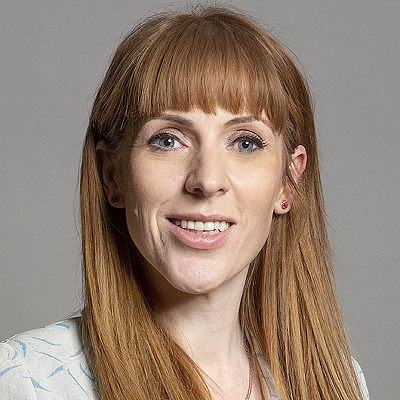 Content
Biography
Angela Rayner (née Bowen; born 28 March 1980) is a British politician serving as Shadow Chancellor of the Duchy of Lancaster and Shadow Secretary of State for the Future of Work since 2021 and Shadow First Secretary of State, Deputy Leader of the Opposition and Deputy Leader of the Labour Party since 2020. She has been Member of Parliament (MP) for Ashton-under-Lyne since 2015. She ideologically identifies as a socialist and as being part of Labour's soft left.
Rayner was born in Stockport, where she attended the state secondary Avondale School. She left school aged 16 whilst pregnant and without any qualifications. She later trained in social care, eventually becoming a trade union representative within Unison, during which time she joined the Labour Party. Selected to contest Ashton-under-Lyne in 2014, Rayner was elected for the seat at the 2015 general election.
In January 2016, Rayner was appointed as Shadow Minister for Pensions by Jeremy Corbyn and was promoted later in 2016 to the Shadow Cabinet as Shadow Secretary of State for Education and Shadow Minister for Women and Equalities. As Shadow Education Secretary, she proposed the creation of a National Education Service (NES) modelled on the National Health Service (NHS). She endorsed Rebecca Long-Bailey in the 2020 Labour Party leadership election, who came second to Sir Keir Starmer, and instead successfully stood for the deputy leadership, after which she was appointed as party chair and national campaign coordinator. She was removed from these roles in a reshuffle following Labour's poor performance at the 2021 local elections, subsequently being appointed as Shadow Chancellor of the Duchy of Lancaster and Shadow Secretary of State for the Future of Work.
Early life and career[edit]
Rayner was born on 28 March 1980 in Stockport, Greater Manchester.[2] She attended Avondale School in Stockport, leaving the school aged 16 after becoming pregnant, and did not obtain any qualifications.[3][4] She later studied part-time at Stockport College, learning British Sign Language, and gaining an NVQ Level 2 in social care.[2][5]
After leaving college, Rayner worked for Stockport Metropolitan Borough Council as a care worker for a number of years. During this time, she was also elected as a trade union representative for Unison.[6] She was later elected as convenor of Unison North West, becoming the union's most senior official in the region.[7][8] The Guardian featured a lengthy profile of Rayner in 2012, as part of an article on a trade union officer's working life.[9]
Member of Parliament
In September 2014, Rayner was selected as Labour's candidate for Ashton-under-Lyne, on the retirement of David Heyes. She won the seat at the 2015 general election, increasing the Labour majority and its share of the vote.[10][11] She delivered her maiden speech on 3 June 2015.
Rayner nominated Andy Burnham in the 2015 Labour leadership election, but was one of just 18 Members of Parliament (MP) to back the incumbent Jeremy Corbyn against Owen Smith in the 2016 leadership election.[12]
On 1 July 2016, after a series of resignations from the Shadow Cabinet, Corbyn appointed Rayner as Shadow Secretary of State for Education.[7][13] She supported the notion of a 'National Education Service' to be modelled along similar lines to the National Health Service (NHS), also promoting an increase in funding for early years education.[14] She was considered by some as a possible future Labour leader.[15][16]
In the 2019 general election, Rayner was returned as Member of Parliament for the third time in 5 years. She did not stand for the Labour leadership in the 2020 leadership election, supporting her flatmate Rebecca Long-Bailey, who came second to Sir Keir Starmer. She stood successfully for Deputy Leader, elected on 4 April 2020, replacing Tom Watson. She was appointed Deputy Leader of the Opposition, Shadow First Secretary of State and Chair of the Labour Party in the following days.[17][18][19] In October 2020 Rayner called Heywood and Middleton Conservative MP Chris Clarkson "scum" as he was giving a speech in Parliament.[20] She later apologised.[21][22]
Rayner was sworn of Her Majesty's Most Honourable Privy Council on 12 February 2021.[23]
Rayner was removed from her roles as the Labour Party's chair and national campaign coordinator in a reshuffle by Sir Keir Starmer on 8 May 2021, following the 2021 local elections.[24][25] Rayner was subsequently appointed as Shadow Chancellor of the Duchy of Lancaster and Shadow Secretary of State for the Future of Work.
In May 2021, Rayner was the subject of BBC Radio 4's weekly Profile programme.[26]
In September 2021, Rayner made controversial remarks about senior members of the Conservative Party, calling them "scum". According to Labour MP Emily Thornberry, these initial comments were made at a fringe meeting where Rayner may have been drinking alcohol.[27]
Some Labour MPs, while saying it was not the language that they would have used, have defended her comments, including Steve Reed, John McDonnell and Lisa Nandy.[28] The Labour leader Keir Starmer distanced himself from her remarks, but said it was up to Rayner if she wanted to apologise or not,[29] while other Labour MPs condemned her in stronger terms.[30] The former Labour cabinet minister Lord Adonis said that if Rayner did not apologise, Starmer should say that he no longer has confidence in her as the deputy leader of the party. He told Times Radio that her remarks were a way to start an election campaign for the leadership of the Labour Party.[31] Several Conservative MPs, including Grant Shapps, Amanda Milling and Oliver Dowden, have condemned her comments.[31] Rayner has not apologised for her comments.[32]
Political views
Rayner identifies as a socialist.[33][34] In a 2017 interview to The Guardian discussing her political beliefs, Rayner highlighted her pragmatism, describing herself as being part of the "soft left" of the Labour Party.[15] She has strongly criticised former Labour leader Jeremy Corbyn, as he "did not command the respect of the party", and critiqued his lack of "discipline" when it came to dealing with allegations of antisemitism.[35]
Rayner is also a member of the Labour Friends of Palestine and the Middle East.[36]
Personal life[edit]
In 2010, she married Mark Rayner, a Unison official.[2] She has three sons, the first born when she was aged 16.[3] Her second son Charlie was born prematurely at 23 weeks and Rayner says that the care that her son received demonstrated the importance of the NHS to her.[8][37] Rayner lives in her constituency of Ashton-under-Lyne with her family. She became a grandmother in November 2017.[38] Rayner and her husband are separated.[39]
In an interview with Evan Davis of the BBC in 2018, Rayner said that her mother had been unable to read or write; a repeat of part of a tribute she made to her mother in 2016.[40]
In March 2019, Rayner said that she had fitted panic buttons at her home after rape and death threats were sent to her a few weeks earlier.[41]
Mentions in the news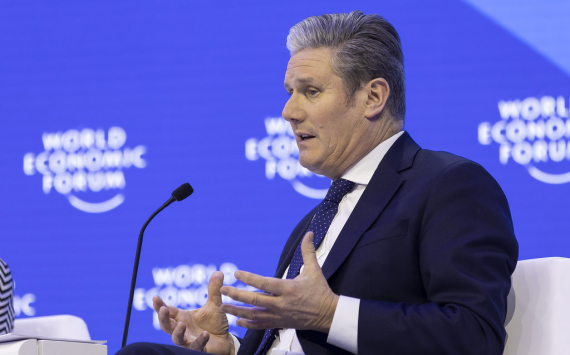 Born in one day
Days left until next birthday: 115 Days.
Quotes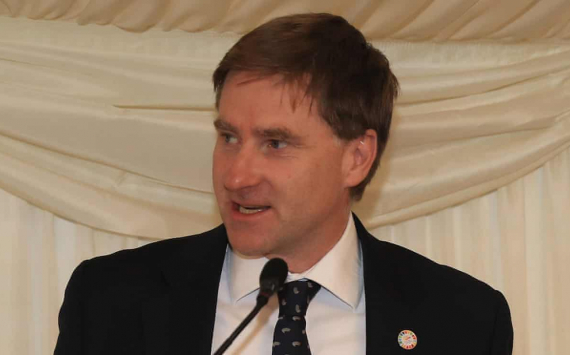 Labour will ban ministers for at least five years after they leave office and create a genuinely independent watchdog to enforce the rules, ending the days that Tory politicians could profit from privileged access, information and taxpayers' money. Enough is enough.
25 January 2022
GlobalEng.biz pays special attention to the activities of famous people: politicians, officials, businessmen, bankers, cultural and sports figures. Their opinion largely determines the development of the political, social and economic life of England and the United Kingdom. The section is constantly edited by our journalists for the relevance of the information. Here you can find information about the CEOs and presidents of top companies in England, officials and public figures who play a key role in the development of the region.
The goal of the project is to create a comfortable information space for all market participants, as well as to introduce the readership to business people in England.
We have created an impressive database of people in England, which contains information about the career path, education and other important information about a person.
Thanks to the automatic calculation of the number of mentions of a person in the news sections "English news" and "English press releases", a rating of the popularity and influence of persons is formed on the portal. The team GlobalEng.biz monitors changes in the rating and encourages project participants for their success. In general, the rating of participants is based on an in-depth analysis of the activity of PR services of famous people, and also reflects the qualitative state of the information field formed by the media and press services around the organization.
"Business people of England" is a project about people who, with their ideas, words and actions, have a great influence on the development and prosperity of England.
Alena Potapova
---
Development Director