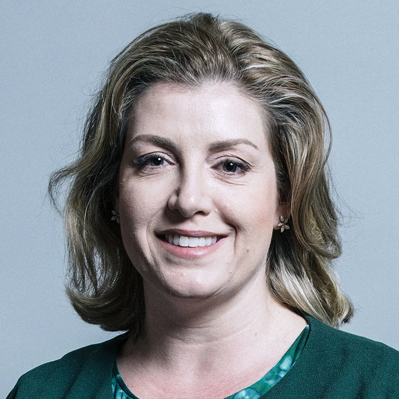 MORDAUNT
Penelope
Minister of State for Trade Policy
Date of Birth: 4 March 1973
Age: 50 years old
Zodiac sign: Pisces
Profession: Minister
Content
Biography
Penelope Mary Mordaunt is a British politician who has served as Minister of State for Trade Policy since 2021. She has been Member of Parliament (MP) for Portsmouth North since 2010. A member of the Conservative Party, Mordaunt served in Theresa May's Cabinet as Secretary of State for International Development from 2017 to 2019 and Secretary of State for Defence in 2019.
Mordaunt was elected to the House of Commons in May 2010. Under the coalition government of David Cameron, she served as Parliamentary Under-Secretary of State for Decentralisation from 2014 to 2015. After the 2015 general election, Cameron promoted Mordaunt to Minister of State for the Armed Forces, the first woman to hold the post. Following Theresa May's appointment as Prime Minister, Mordaunt was appointed Minister of State for Disabled People, Work and Health. In 2017, following the resignation of Priti Patel, Mordaunt was appointed Secretary of State for International Development. She also served as Minister for Women and Equalities from 2018 to 2019.
In May 2019, Mordaunt was appointed Secretary of State for Defence, replacing Gavin Williamson, becoming the first woman to hold the post. She served as Defence Secretary for 85 days before being removed from the position by new Prime Minister Boris Johnson. In the 2020 cabinet reshuffle, Mordaunt re-entered government as Paymaster General. In the 2021 cabinet reshuffle, she was appointed Minister of State for Trade Policy. She is currently the only female MP who is a Royal Naval Reservist.
Early life and career
Mordaunt was born on 4 March 1973 in Torquay, Devon. The daughter of a former paratrooper, one of twins, she was named after the Arethusa-class cruiser HMS Penelope. Her father, John Mordaunt, born at Hilsea Barracks, served in the Parachute Regiment before retraining as a teacher. Mordaunt has two brothers: James and a younger brother, Edward. Through her mother, Jennifer (née Snowden), she is a relative of Philip Snowden, the first Labour Chancellor of the Exchequer. Dame Angela Lansbury is her grandmother's cousin. Mordaunt was educated at Oaklands Roman Catholic School Academy, Waterlooville, Hampshire and studied drama at the Victoryland Theatre School.
When Mordaunt was 15 her mother died of breast cancer. Mordaunt's twin brother left school, so she became Edward's prime caregiver. The following year her father was diagnosed with cancer, from which he recovered. To pay her way through sixth-form college, Mordaunt became a magician's assistant to Portsmouth magician Will Ayling.
She has attributed her interest in politics to her experiences working in hospitals and orphanages of Romania in her gap year, whilst that country was in the aftermath of the 1989 revolution.
Mordaunt read philosophy at the University of Reading, graduating in 1995 with upper second class honours. She was the first member of her family to attend university. Mordaunt was active in student politics and served as president of the Reading University Student's Union.
After her graduation, Mordaunt's employment was focused on public relations in various sectors. Under Prime Minister John Major she was Head of Youth for the Conservative Party, before working for two years as Head of Broadcasting for the party under party leader William Hague. She then worked as a communications specialist for the Freight Transport Association before, in 2000, working briefly as Head of Foreign Press for George W. Bush's presidential campaign. She was director of communications for the Royal Borough of Kensington and Chelsea from 2001 to 2003, before leaving to set up a new Anglo-American website called 'virtualconservatives'. She worked for the Bush campaign again in 2004. She was a director at the Community Fund – which merged administratively with the New Opportunities Fund to create the Big Lottery Fund – and, in 2006, became one of six directors at charity Diabetes UK.
Parliamentary career
In November 2003 Mordaunt was selected as Conservative candidate to contest Portsmouth North in the 2005 general election. She attained a 5.5% swing towards the Conservatives, but lost to Labour candidate Sarah McCarthy-Fry by 1,139 votes. A critic of women-only shortlists, Mordaunt worked after the 2005 election as chief of staff for David Willetts' aborted leadership campaign.
Mordaunt was re-selected in January 2006 to contest Portsmouth North at the 2010 general election. At the election she won the seat with an 8.6% swing from Labour giving her a 7,289 majority. She was re-elected at the 2015, 2017, and 2019 general elections.
After her election, she was a member of the Public Bill Committee for the Defence Reform Act 2014. She is a supporter of homeopathy, having signed an early day motion in support of its continued funding on the National Health Service.
Mordaunt served as Parliamentary Under-Secretary of State for Decentralisation from 2014 to 2015, prior to being appointed Minister of State for the Armed Forces in 2015, the first woman to hold the post.
When receiving the Speech of the Year award at The Spectator magazine's Parliamentarian of the Year Awards in November 2014, Mordaunt said that she had delivered a speech in the House of Commons just before the Easter recess in 2013 on poultry welfare so as to use the word "cock", as a forfeit for a misdemeanour during Naval Reserve training. She used the word "cock" six times and "lay" or "laid" five times. Following her comments, she was accused by Labour MP Kate Hoey of trivialising parliament.
In 2014, Mordaunt became only the second woman in Elizabeth II's reign (the first having been Lady Tweedsmuir in 1957) to propose the loyal address in reply to the Queen's speech from the throne and made reference to Tweedsmuir's comments about wanting more female involvement in Parliament.
In 2014, Mordaunt appeared on reality television programme Splash! Although some criticised the media appearance, questioning whether her focus should instead have been on her constituency work, Mordaunt stated that the response was overwhelmingly positive and defended her appearance, stating that she was donating all of her £10,000 appearance fee plus any additional sponsorship to charity; £7,000 towards the renovation of her local lido and the rest to four armed services charities.
In the EU membership referendum, Mordaunt supported the leave, or Brexit, option.
In June 2020, in response to vandalism of war memorials, Mordaunt stated: "I would like to suggest that for some found guilty of vandalising such memorials they might benefit from some time spent with our service personnel – perhaps at a battle camp. That might give them a new appreciation of just what these people go through for their sakes."
In June 2020, Mordaunt said that some Overseas Development Assistance should instead be spent on a replacement for the Royal Yacht Britannia.
Born in one day
Days left until next birthday: 91 Days.
GlobalEng.biz pays special attention to the activities of famous people: politicians, officials, businessmen, bankers, cultural and sports figures. Their opinion largely determines the development of the political, social and economic life of England and the United Kingdom. The section is constantly edited by our journalists for the relevance of the information. Here you can find information about the CEOs and presidents of top companies in England, officials and public figures who play a key role in the development of the region.
The goal of the project is to create a comfortable information space for all market participants, as well as to introduce the readership to business people in England.
We have created an impressive database of people in England, which contains information about the career path, education and other important information about a person.
Thanks to the automatic calculation of the number of mentions of a person in the news sections "English news" and "English press releases", a rating of the popularity and influence of persons is formed on the portal. The team GlobalEng.biz monitors changes in the rating and encourages project participants for their success. In general, the rating of participants is based on an in-depth analysis of the activity of PR services of famous people, and also reflects the qualitative state of the information field formed by the media and press services around the organization.
"Business people of England" is a project about people who, with their ideas, words and actions, have a great influence on the development and prosperity of England.
Alena Potapova
---
Development Director