11 May 2022
1884
3 min.
2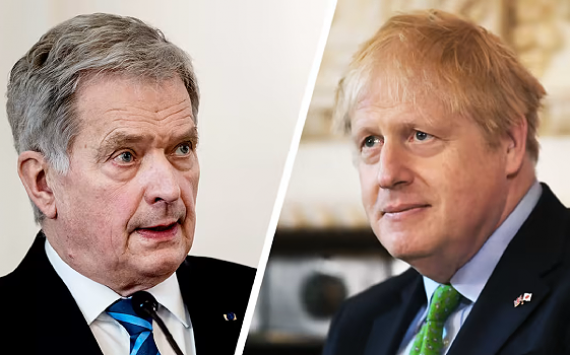 Finland signed joint security declarations with Britain on Wednesday, a move that president Sauli Niinistö described as a "big step forward" for co-operation between the two countries.
The British government said that the bilateral agreements made with both Finland and Sweden would "reinforce their security and fortify northern Europe's defences, in the face of renewed threats".
British PM Boris Johnson flew to Stockholm and then Helsinki on Wednesday to discuss security policy with the leaders of the two Nordic countries.
Johnson said that Russia's war against Ukraine has ended the post-Cold War era and "reshaped our future" as countries that have previously avoided military alignment now rethink their foreign policy.
"We signed a joint statement. We will stand together and support each other in any circumstances, in good and bad weather," president Niinistö said in a press conference following the two leaders' meeting.
When asked about the Kremlin's thoughts on a possible Nato membership Niinistö denounced Russia's attempt to remove Finland and Sweden's agency over the decision.
"If the case is that we join well, my response [to Russia] would be that you caused this, look at the mirror," Niinistö said.
Let us know what you think in the comments below. You'll need an Yle ID to join the discussion, which you can sign up for here. Comments are open on a trial basis until 13 May, and moderated between 10 and 17:30 each weekday.
Johnson's statement of solidarity follows several other allies who have offered support in recent weeks, as both Finland and Sweden close in on decisions over whether or not to join Nato.
While in Sweden, UK Prime Minister Boris Johnson declared (siirryt toiseen palveluun)that Britain would defend the country if it were attacked. He added that the UK would support Finland's decision on Nato membership, whatever it may be.
The issue has shot up the political agenda in recent weeks, with public support for a Nato application increasing in both countries, after Russia invaded Ukraine in February.
Finland is expected to announce its decision in the coming days, with President Niinistö and Prime Minister Sanna Marin (SDP) due to give their own views on Nato at 10 am on Thursday. Parliamentary parties will then meet and discuss their positions, with statements expected to follow over the weekend.
Estonian President Alar Karis was also among the leaders to discuss the Nato decision with Niinistö on Wednesday.
"For Estonia, and not just Estonia but the rest of the Nato members, this is very good news if Finland and Sweden join Nato," Karis told an Yle reporter after his meeting with the Finnish president, adding that Russia was unlikely to attack Finland militarily in the aftermath of a membership application.
"Russia has given a number of threats so it is probably going to say something but it is not that important. I don't think that Russia will enter somehow millitary to Finland and other countries," Karis said.
Source: https://yle.fi/news/3-12441348
Persons1 and Companies1 in the news

Prime Minister of United Kingdom

ENGLAND NEWS
News GlobalEng.biz -this is the latest and most up-to-date information about the resonant events that have occurred in the region. The task of the resource's news feed is to convey to readers information about important events in business, politics, economics, healthcare, culture and other spheres of life in England with maximum accuracy and objectivity.
News GlobalEng.biz - this is coverage of the economic processes taking place in England, the latest news of public life, incidents and an overview of political events. English news is information about the activities of small and medium-sized businesses, the work of housing and communal services, the implementation of significant projects. The site's journalists describe not only the life of the region, but also talk about the current state of the English economy. Everything you need to know about innovations in the field of industry and agriculture, economy and government is collected in the "News" section on GlobalEng.biz.
News of England promptly informs the reader, shows the real picture and opens up topical topics. Communication with government structures and business gives us the opportunity to provide our readers with reliable, information-rich material.
The main page of the portal contains the key news of England!
Alena Potapova
---
Development Director