1 July 2021
2540
3 min.
5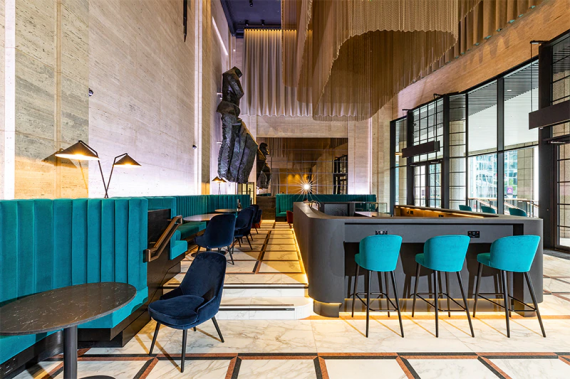 British Land continues to broaden its food and beverage offering at Broadgate with four new lettings at 155 Bishopsgate.
Neat Burger, a plant-based and planet friendly burger restaurant backed by Formula One star Lewis Hamilton, will open a 2,700 sq ft restaurant. Nest, a bar and restaurant run by Urban Pubs and Bars, will open a 3,300 sq ft bespoke space including a large outdoor terrace with steps that link to neighbouring Italian marketplace Eataly.
Black Sheep Coffee will open its second site at a British Land campus, taking 1,200 sq ft for its coffee, café and cocktail concept and will also run the reception café within 155 Bishopsgate. Hawaiian poké restaurant Honi Poke will take 500 sq ft.
These new brands will grow Broadgate's diverse leisure and hospitality offering, joining a host of other high-quality brands like Bar Douro, the traditional Portuguese tapas restaurant; Jose Pizzaro, the contemporary Spanish small plates restaurant, and independent wine merchant Uncorked. In May 2021, Eataly opened its first UK site at 135 Bishopsgate, a 42,000 sq ft Italian food hall which includes restaurants, food stalls, drinking and dining space and a cookery school.
Alice Keown, Leasing Director – Restaurants and Leisure, British Land, said: "We're excited that four fantastic brands are joining us at Broadgate. With combined lettings totalling over 7,000 sq ft of space, we're pleased to see continued confidence in Broadgate as a world-class leisure destination.
"We're committed to providing an exceptional experience to everyone who visits or works at our Broadgate campus. These new lettings, together with the recently launched restaurants at 100 Liverpool Street, will serve to further enhance Broadgate's offering to customers."
Eirik Holth, Co-Founder & Co-CEO, Black Sheep Coffee, said: "We're thrilled to soon be opening the doors to our new flagship store in 155 Bishopsgate, Broadgate. We'll be serving our full range of coffees, smoothies, and Norwegian waffles during the day as well as our signature afterwork range in the evening including coffee-based cocktails, craft beer and wine, and free popcorn of course! It's been great working with the team at British Land who share our passion for creating exciting spaces for our customers."
British Land is investing £1.5 billion over 10 years to transform Broadgate into a world-class destination for London. The campus hosts many of the world's leading financial, legal, technology and media companies, alongside some of London's best restaurants, bars and retail including 90,000 sq ft of premium brands at 100 Liverpool Street. It is also home to four public squares, including a new 1.5 acre park in Exchange Square which is currently under construction and will quadruple the amount of green space at Broadgate.
About Broadgate
Broadgate is where innovation and finance play.
It is the largest pedestrianised neighbourhood in Central London: a diverse community connecting innovation and finance, and a public arena for new food, retail and culture.
Lying adjacent to the busy transport hub of Liverpool Street station and surrounded by Shoreditch, Spitalfields, Old Street and the City, Broadgate connects Europe's capitals of investment and technology.
Joint owners British Land and GIC are investing £1.5 billion in Broadgate's evolution into a world class, mixed use destination for London.
Their masterplan for Broadgate will deliver 4.9 million sq ft of new and redefined workplaces, retail and restaurants, bringing people together to work, shop, drink and dine.
Broadgate's rare collection of public spaces combines the community and feel of the historic piazza with the energy of modern London. These spaces play host to over 100 cultural events annually, providing a showcase for emerging ideas and talent.
Media British Land:

Lizzie King
07808 912 784
Giles Barrie, FTI Consulting
07798 926 814
PRESS RELEASES OF ENGLAND
Press releases GlobalEng.biz -this is the latest news from England companies.
The official press releases of companies in England are regularly published on the resource. You can find out the latest news of enterprises in the corresponding section on the main page. Posting press releases is a traditional and effective way to promote your business. It allows organizations to declare themselves and their products and services to the widest possible mass of the audience. At the same time, the information occasion can be any: attracting people to an event or conference, highlighting new products or personnel appointments. If your goal is to draw attention to your information, then GlobalEng.biz will become your reliable assistant in this case. Thanks to the portal, your press release will be seen by reviewers of leading online publications, customers and partners.
GlobalEng.biz allows representatives of companies and organizations in A to independently post a press release when registering on the resource. The most important feature of GlobalEng.biz.The problem is that all publications of England companies fall into the archives and will be available from the search for a long time. You just need to add a press release to the information feed.
GlobalEng.biz offers its customers a subscription service that allows companies to regularly publish press releases on favorable terms. In addition, the business portal provides an opportunity to tell more fully about the life of the company by adding photos and videos, persons and quotes of employees. All information materials have active links and will lead potential customers to your resource.
Alena Potapova
---
Development Director