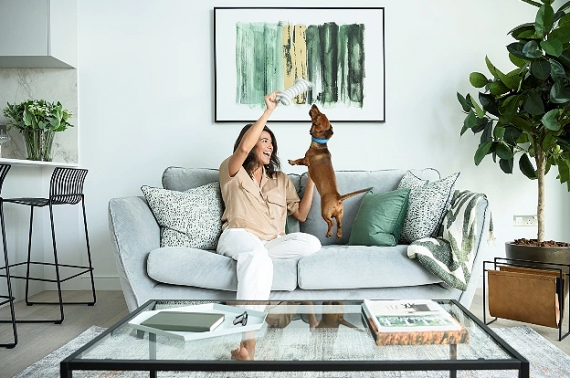 Vertus, Canary Wharf Group's residential leasing and operating arm, has reached stabilisation ahead of schedule at its pet-friendly development 8 Water Street in Wood Wharf. Launched in October 2020, 8 Water Street is one of Vertus' three build-to-rent buildings, offering 174 apartments in a mix of studio to three-bedroom homes. The award-winning development was named Best London BTR Development in the HomeViews Awards last year.
Designed by renowned architects Stanton Williams, 8 Water Street intimately connects residents to the water and green spaces below. A landscaped private garden overlooks South Dock and the quiet boardwalks and gardens of Harbour Quay and the floating pavilions of Water Square, while the expansive roof terrace above is the largest outdoor space in the Vertus portfolio. Residents enjoy the tranquillity of waterside living whilst being moments from high quality new restaurants including Hawksmoor and Emilia's Crafted Pasta. They also benefit from complimentary membership to the Estate's Third Space venue, Europe's largest luxury health club.
Like all Vertus residences, 8 Water Street offers state-of-the-art amenities, including a self-service bar with free vend bean-to-cup coffee machines and wine dispensers, a private dining room, a lounge area and co-working areas and private outdoor space. Also available to all Vertus residents is Club Vertus, set up to create a range of curated events to encourage like-minded residents to make the most of the exceptional indoor and outdoor shared spaces.
Alastair Mullens, Managing Director, Vertus said: "The appetite for build-to-rent apartments in London continues apace, and with the exceptional living spaces on offer at 8 Water Street and its location within the thriving new neighbourhood of Wood Wharf, it's easy to see why. 8 Water Street was launched in the middle of the pandemic which makes reaching full occupancy ahead of schedule all the more remarkable. It's testament to the tenacity of our Club Vertus team who worked so hard to accelerate our programme of online events – and outdoor events when permitted – that we were able to cultivate such a strong sense of community when it was most needed. The fact 8 Water Street is a pet-friendly building has also been a big attraction for many new residents."
Prices start from £1,950pcm, which includes access to the communal amenities, high-speed broadband and Samsung HD Smart TV with a TV licence.
For more information, visit thisisvertus.com or contact leasing@thisisvertus.com
ENDS
For further information, please contact:
Press Office
Canary Wharf Group plc
T: 020 7418 2166
E: pressoffice@canarywharf.com
PRESS RELEASES OF ENGLAND
Press releases GlobalEng.biz -this is the latest news from England companies.
The official press releases of companies in England are regularly published on the resource. You can find out the latest news of enterprises in the corresponding section on the main page. Posting press releases is a traditional and effective way to promote your business. It allows organizations to declare themselves and their products and services to the widest possible mass of the audience. At the same time, the information occasion can be any: attracting people to an event or conference, highlighting new products or personnel appointments. If your goal is to draw attention to your information, then GlobalEng.biz will become your reliable assistant in this case. Thanks to the portal, your press release will be seen by reviewers of leading online publications, customers and partners.
GlobalEng.biz allows representatives of companies and organizations in A to independently post a press release when registering on the resource. The most important feature of GlobalEng.biz.The problem is that all publications of England companies fall into the archives and will be available from the search for a long time. You just need to add a press release to the information feed.
GlobalEng.biz offers its customers a subscription service that allows companies to regularly publish press releases on favorable terms. In addition, the business portal provides an opportunity to tell more fully about the life of the company by adding photos and videos, persons and quotes of employees. All information materials have active links and will lead potential customers to your resource.
Alena Potapova
---
Development Director