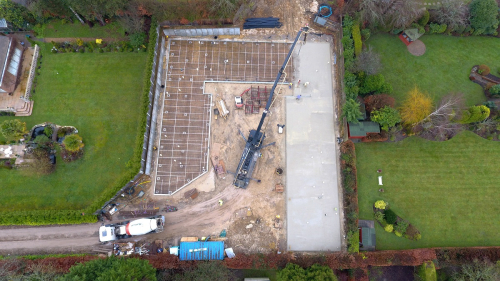 The structured funding package, which comprises a revolving receivables line and an RLS term loan, will enable the business to bridge the working capital gap as it continues its growth trajectory.
Based in Luton and founded in 1988, Abbey Pynford designs and installs patented engineered foundation systems and underpinning solutions for the new build developer market. The business has an in-house design team, comprised of structural and geotechnical engineers, who create underwritten design solutions.
Nick Kenny, Finance Director of Abbey Pynford, said:
"We have a fantastic foundation system with a patented design that allows developers to go from breaking ground to 'golden brick' 70% faster. The team at Arbuthnot Commercial ABL brought in-depth knowledge and understanding of the construction industry to the deal. They were able to structure a revolving receivables line based on a higher prepayment, in addition to the RLS facility, accelerating the receipt of cash to fund the payment gap and providing us with surplus liquidity to drive our growth.
We spoke to several different lenders and Arbuthnot Commercial ABL was in tune with the way our executive could see a long-term funding relationship working. Their team understands the pressures and challenges we face in our industry. As a business, we pride ourselves on delivering and can see that same quality in Arbuthnot Commercial ABL. It is great to be working with a bank that you know has your back. We have nothing but praise for everybody involved in the deal, and we are excited about the future of the business with our new funding line in place."
Andrew Rutherford, Commercial Director at Arbuthnot Commercial ABL, said:
"It was a pleasure to work with the management team, structuring a flexible facility that will meet the needs of the business as it continues to drive growth. Abbey Pynford is a well-established business in a strong niche, operating in a robust sector that we know extremely well. The businesses that will succeed in the coming months and years will be those with clear funding strategies in place and we are delighted to support the team in the next exciting chapter of their growth story".
PRESS RELEASES OF ENGLAND
Press releases GlobalEng.biz -this is the latest news from England companies.
The official press releases of companies in England are regularly published on the resource. You can find out the latest news of enterprises in the corresponding section on the main page. Posting press releases is a traditional and effective way to promote your business. It allows organizations to declare themselves and their products and services to the widest possible mass of the audience. At the same time, the information occasion can be any: attracting people to an event or conference, highlighting new products or personnel appointments. If your goal is to draw attention to your information, then GlobalEng.biz will become your reliable assistant in this case. Thanks to the portal, your press release will be seen by reviewers of leading online publications, customers and partners.
GlobalEng.biz allows representatives of companies and organizations in A to independently post a press release when registering on the resource. The most important feature of GlobalEng.biz.The problem is that all publications of England companies fall into the archives and will be available from the search for a long time. You just need to add a press release to the information feed.
GlobalEng.biz offers its customers a subscription service that allows companies to regularly publish press releases on favorable terms. In addition, the business portal provides an opportunity to tell more fully about the life of the company by adding photos and videos, persons and quotes of employees. All information materials have active links and will lead potential customers to your resource.
Alena Potapova
---
Development Director